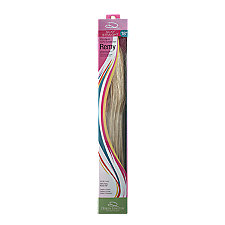 Matching hair extensions to your natural hair color can be an overwhelming task when purchasing for the first time. You want your extensions to look natural, and if the color doesn't match perfectly all credibility of having naturally thick and long hair is gone. Here are some good tips to make sure you find your perfect match.
*Use swatches to compare extension colors.
*Do prior research of hair extension colors to become more familiar with the terms and lingo.
*Match the hair extension color to the ends of your hair. The majority of your hair is a different color than the roots, so matching it this way will ensure a more natural look.
* Enlist the help of your stylist.
* Consider buying two different shades of extensions to mix in with natural hair to create a blended look.
You can also color your hair to match the hair extension you purchase. Coloring the extensions is not recommended because the extensions have already gone through such a rigorous treatment process to kill all bacteria and color the extensions. This makes the hair extremely porous and very easy to damage or over process, ending up in a waste of your time and money. 
It may take a little extra time to ensure you are getting the right color for your hair, but with the investment you are making with extensions, you want to be sure it is correct. Have fun though and don't be afraid to experiment with different pops of color within your natural color!