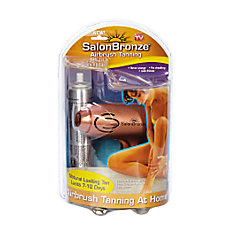 Spring is here and bears aren't the only thing coming out of hibernation – skin that has spent the winter hiding under a layers of clothes is also making an appearance. Am I the only one feeling a bit pasty? I didn't think so.
Now that I'm older and (slightly) wiser, I prefer that my tan come in a bottle. Self-tanners have come a LONG way from the messy orange goop of yesteryear and are much easier to use, but there are still some tips and tricks that will help you avoid any tanning mishaps. Learn from my mistakes, people! =)
1. Decide which type of self-tanner you prefer. There are so many possibilities, from sprays to lotions to mitts. I like to use a spray that contains bronzer, so I can see where I've applied the product, but it depends on your personal preference. It might take some experimenting before you figure out what you like best.
2. Exfoliate, exfoliate, exfoliate! Remember that skin that's been hibernating all winter? It's not only pasty, but it's dry. Slough that skin away before tanning to avoid unevenness.
3. Elbows, knees and ankles are magnets for tanning product, and can take your self-tan from natural to WHOA, FAKE BAKE in a flash. So, I always smooth a layer of regular body lotion over these spots before applying the tanner. The lotion acts as a barrier so I don't end up with orange ankles.
4. I like to wear gloves while I apply tanner. It saves me from worrying about orange palms, but be sure to put tanner on the tops of your hands when you finish to avoid looking like you are wearing permanent white gloves. If you don't wear gloves,  scrub your hands well once you're finished!
What about you? Do you use self-tanner? Have any good tips? Ever had any crazy mishaps?