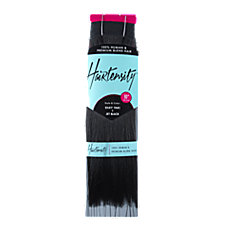 I have been a lover of hair extensions for quite a while now, and let me be honest- I long for a hair extension of great quality without the price tag. I think I found my answer with the new human hair and premium fiber hair extension blend called Hairtensity.
What makes Hairtensity so unique is it is human hair, but has premium synthetic fibers blended. This lowers the overall cost without sacrificing the quality of the hair. The premium synthetic fibers behave like human hair and hold a great curl when using heat tools with the recommended heat setting of 340° degrees.
The texture is really soft, and shiny enough to look natural and blends in great with naturally straight or relaxed hair. With the proper care, I was able to wear this hair a lot longer than synthetic only hair, and I experienced less tangling.
The wide range of lengths made it easy to find exactly what I was looking for and the prices were even better! The 8" hair retails around $10, which is cheap enough to use for a weekend and toss. Even the twenty-two inch hair won't break the bank. It retails in the $50 range!
I saved a few more dollars by buying different lengths to achieve a layered look without getting it cut by a professional. The color selections were very natural and easy to match to my hair. I can't wait to try different lengths to mix up my hairstyle in the future!