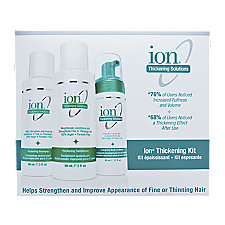 Ion must have heard my prayers, because they have created a system that caters to ladies like me who don't have a lot of hair.  The new Ion Thickening Solutions strengthens your fine or thinning hair to prevent breakage, promotes a healthy scalp, and increases volume.
I have tried several thickening/volumizing systems, but could never commit because I disliked the fragrance, it was drying, I couldn't use it on my color treated hair, or it just didn't work.
What really interested me was the clinical research that went behind this line and the results: 76% of users noticed an increase in fullness and volume, and 68% of users noticed a thickening effect after use. I was like, "Sign me up!"
I know you will love this line of products because not only is my hair voluptuous, it smells de-lish, feels baby soft, is color-safe. Thank you, Ion!