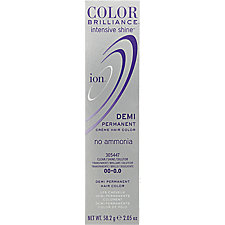 It's not exactly hair color, but it is sold in the hair color aisle and it does enhance any hair color! I'm talking about Ion Color Brilliance Demi-Permanent Hair Color in 00 CLEAR.
What it does is enhance each strand of hair with clear shine, adding a little body and loads of luster to any natural hair color. You can also mix Demi Clear with any other Ion Demi shade to brighten or add warmer tones to your natural shade. And, for anyone who does use hair color, Demi Clear helps to prevent fading as it boosts shine.
Any way you use it, Ion Color Brilliance Demi is CLEAR-LY is the perfect pre-holiday hair treatment!