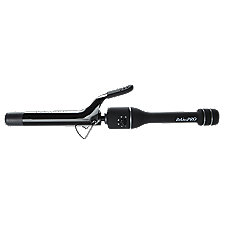 So I think everyone deserves a GREAT curling iron in their arsenal of styling tools. I use one just about every day, and over the years I thought my cheap drugstore versions were doing just fine.  Then I started to use some professional quality curling irons and realized what I had been missing. 
My latest is the new BeLiss Pro Titanium Curling Iron. It features a soft touch handle that feels great in my hands and an easy to use temperature dial that has more than enough settings to do everything I need (from a light curl to smooth out the ends, to seriously tight and bouncy curls). 
The Sol-Gel Titanium finish on the barrel gives it a smooth glide so it's easy to style my hair.  And this morning I got super smooth hair using my BeLiss curling iron with the new Beyond the Zone Hair Primer, which I used instead of a conditioner to detangle and smooth my hair before drying.
What's your favorite styling tool?