Hello my name is Kelly and I'm addicted to soft, smooth hair. It feels good to get that off my chest!
Whether I curl or flat iron my hair, I can't stand when I cannot run my fingers through it because it's tangled! Dry, tangled hair can take me from happy to angry in an instant!
I naturally have frizzy, dry, wavy hair that no one in their right mind would ever describe as soft or smooth! I have to blow dry and then flat iron or curl to achieve the look that makes me happy. I have tried to stop and give up the heat, but that lasted all of 30 minutes before I caved!
If your addiction is strong like mine and you just can't give up the habit, you need heat protection. I love the Silk Elements line of heat protectors because not only do they help to protect heat damage, but they also add shine, soften and increase manageability.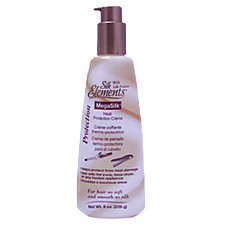 This miracle in a bottle comes in different forms to suit everyone's need (serum, spray and crème). The NEW Silk Elements Heat Protection Crème offers a little something different because it allows you to better control where the product is going for even distribution.
This formula is light-weight which makes it ideal for all hair types. When you smooth the crème in your hands you know your hair is going to feel and look like silk after blow drying, which is perfect for smooth hair addicts like me!
What's your beauty addiction?