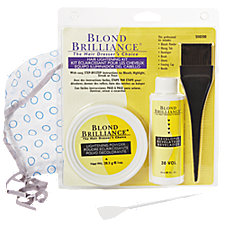 Sunny days, warming temperatures, and lighter clothes…this is the time of year when a lot of us look at our hair and think what we really want are a few highlights. It's really not that hard to give yourself some great-looking highlights at home.
To make it easy, use a highlighting kit; it contains everything you'll need, including a highlighting cap. If you've never seen one, a highlighting cap looks kind of like a shower cap with holes all over it, but it really makes the highlighting process easy because you simply pull small sections of hair though the holes wherever you want the highlights.
For natural-looking results, place highlights around your face and along the top of your head——the way the sun would lighten your hair. As with any chemical process, follow all directions carefully, and you'll enjoy the sun-kissed look now!