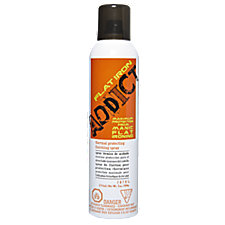 Do you use a heat protector when you flat iron your hair? If not, you should! Repeated heat styling without one can really zap the life out of your hair, that's why it's SO IMPORTANT to use a heat protector. Enough with the lecturing, right? =)
Anyway, I have a new heat protector I wanted to share with you called Flat Iron Addict. It not only protects your hair from heat damage, it provides a light hold and 72 hour frizz control (or until your next shampoo). I especially love that it's an aerosol so I get light, even coverage without any overly-saturated spots.
It's also majorly on sale ($5.99) for the month of March. Be sure to check it out!