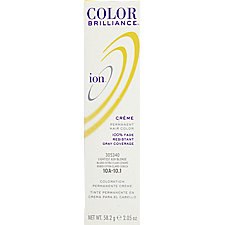 Maybe this is you – you're thinking, "I'd love to color my hair myself."
Smart thinking! You can save time and money by doing it yourself at home.
Or maybe you're already coloring your own hair, but you're using the box color from the drug store. We believe you'll prefer the better options from Sally Beauty.
Here's why professional hair color from Sally Beauty is your BEST choice:
- Hundreds of shades to choose from
- Customize your color – don't settle for a limited selection
- More conditioning formulas to keep hair looking healthy
Come visit us and we'll help!
Here are some of the things our sales associate will want to know:
Are you looking for a hair color shade similar to the one you are using now?
Do you just want to cover gray?
Are you looking for a natural change, or a dramatic change?
Do you want your new color to be temporary or permanent?
Are you looking for overall color, or a few highlights?
We'll help you select the right products to give you the hair color you want. And did you know we have a hair color guarantee?
Here it is:
We want you to love your new hair color. If you are unhappy with the color after performing a test on a small portion of hair, return to Sally Beauty for a different hair color product or a full refund.
So come to Sally Beauty to find the color you'll love!