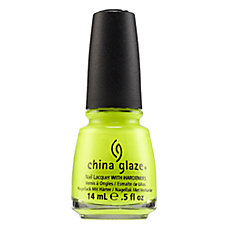 Neons have been on the trend radar for awhile, and it looks like they're going to be big again for spring.
I happen to love them when used as a pop of color, and mixed with neutral pieces. I'm currently on the lookout for a skinny neon belt to pair with tan linen pants for when the weather warms up. Of course no spring outfit of mine is complete without complementary nail polish so I'm planning on rocking China Glaze Neon Celtic Sun on my tips.
On the flipside, I know there are some of you who groan at the mere mention of neons, and are completely content to have left them behind in the 80s. So I thought I'd make them the subject of this Friday's Fashion Poll.
Please take a moment to vote and let us know your thoughts in the comments!
Loading ...