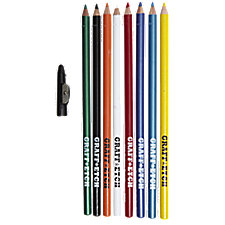 I am attracted to anything and everything ART. Whether it's fashion, hair, photography, music or dance, I love anything related to art! That's why when I saw the Graff*Etch colors, they immediately caught my eye.
Have you seen the designs people shave on their head? They're a great way to express your personality through your hairstyle. Well, barbers are taking it to the next level by using these colors to make designs pop! They fill in the shaved part of the head with the color pencils and immediately the etched design has a vibrant new look.
These aren't the ordinary color pencils you remember from grade school art class, though. They were created with a special formula for the skin and are totally safe. Not only are they safe, but they are sweat proof, too. If you are dancing or doing any activity, the color will not easily rub off. When it's time to remove the color, simply wash with shampoo or a mild cleanser.
Oh and I must mention that this look is not only for guys. Girls are rocking this style, too. It is a very hot, "street-style" trend.
Give it a try and post your pics on our Facebook. I can't wait to be inspired!