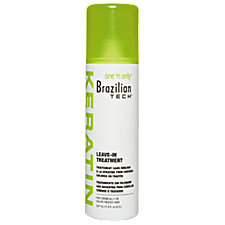 Football season has started and pumpkin spice lattes are on sale, which can only mean one thing – fall is finally here!
After a hot, hot summer spent in the pool trying to cool off, my tresses are looking a little frazzled. Luckily, Brazilian Tech has come out with three new products that will get my hair back in shape just in time for my high school reunion! They're full of keratin, which helps fill in any scraggly places along the hair shaft. Perfect timing!
Here's a little info about the new products:
Brazilian Tech Leave-in Treatment - This is a lightweight leave-in protein spray that repairs damage to the cuticle, while conditioning and controlling frizz.
Brazilian Tech Lusterizer – Use this product on wet or dry hair to provide instant shine, revive color and strengthen damaged hair.
Brazilian Tech Smoothing Lotion - This is a non-greasy anti-frizz and anti-curl styling lotion that eliminates frizz and temporarily straightens and smoothes thick, curly wavy, hair.
Did your hair suffer a little wear and tear over the summer? What are you doing to repair it? Leave your ideas in the comments!