Have you been bitten by the gel polish bug? If you haven't tried it yet, prepare to be amazed! Gel polish lasts up to 21 days with no chips! And you can do it at home! You can now jump up and down with joy.
Sally Beauty now has a gel polish that is better than any other gel polish out in the market  (according to our tests) – Gelish!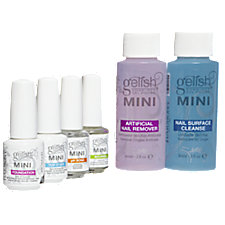 Let me tell you a little about Gelish.
*18 fabulous colors available
*Cures in LED OR UV light.
*Cures in 10 seconds (LED light)
*Removal time is only 10 to 12 minutes!
*Up to 21 days of amazing, long lasting color!
It's in stores now!! So run, don't walk, and get your Gelish on!
Let me know what colors you like best! I'm partial to Passion, myself.